School's Facilities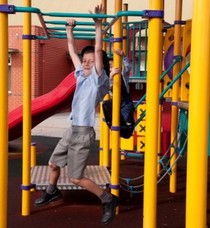 At St Therese we have outstanding facilities that provide an excellent opportunity for the children to reach their full potential.

We have eight classrooms that are well presented and provide a caring and rich environment for the children. Each air conditioned classroom has a Smart Board, enabling interactive teaching.

The school has a new covered outdoor learning area - "The Market place"– an innovative space increasing the teaching and learning area for our students and providing an all-weather shaded environment for eating and recreation.

Our Domincan Building has three separate teaching spaces for Drama, Music, Art, Italian and Science. This state of the art building can be opened up to provide a huge area for whole school assemblies, drama and music performances.

The Dominican building also houses our highly functional canteen, which supplies our students with a varied and delicious menu twice a week. The canteen also enables catering for various school functions.

Our play area is covered with a synthetic grass, marked with basketball, netball and volley ball courts, as well as hopscotch and four square.

The rubber cushioned playground is the highlight of the school yard, with every conceivable piece of play equipment, from a flying fox to a slippery dip. The playground also incorporates a fitness circuit. The majority of the playground space is covered with an outdoor sail shade, providing protection from the sun for our students.

Students also have supervised access to Mortlock Park, a large grassed oval, across the road from the school. Children use the park at break times and during some Physical Education lessons.