Buddy System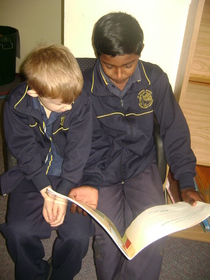 At St Therese each Junior Primary class is 'buddied' with an Upper Primary class. Each student has their own buddy.
Buddy classes join together to do a variety of activities together; reading, craft, preparing assemblies, excursions, to name a few.
The benefits are twofold, the older children learn to take on a mentoring and responsibility role, while the younger children know that they have a fellow student they can confidently turn to for support.
Our Buddy System helps to promote friendship and support between older and younger students, fostering a sense of whole-school community. It also create friendships that enable both older and younger 'buddies' to bond more closely with their school, increasing the likelihood of more positive school behaviour for all students.
< back