Information Technologies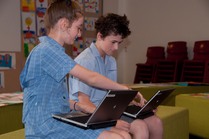 Information Communication Technologies (ICTs) are embedded through all aspects of the curriculum.
Each child in years 3-7 have their own laptop provided through a hiring scheme from the school. The junior primary classes each have a pod of 8 laptops.
Students are also given access to digital cameras, Interactive White Boards (IWBs) and the opportunities to use these in varying ways.
Lap Top Scheme FAQ.pdf