Safety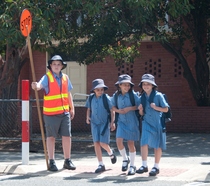 The safety of our students and community is one of our highest priorities.
We provide a secure environment that allows the students to move safely around the school. Our staff are clearly identified by the badges that they wear. As our school is fully secure, with fences around all areas, visitors must enter through the Front Office and sign-in upon entering the school.
Safety in the yard encourages our students to play actively without fear. Each teacher on Yard Duty wears a florescent safety vest to ensure that they are easily visible should a student be looking for assistance. Teacher's also carry small first-aid kits for the treatment of minor injuries in the yard, more serious injuries are dealt with promptly in the sick room by staff who are trained in Senior First Aid.
The school is situated in a suburban street, which can make the movement of traffic difficult during peak school drop off and pick up times. To ensure that the students are safe during this time teachers are on duty at the school's gates, and senior students (who have been trained) volunteer to help as Traffic Monitors, ensuring the safe use of the school crossings.
Parking regulations apply in the vicinity of the school.
A No Parking Zone operates, 8.30 to 9.00am, and, 3.00 to 4.00pm, on both sides of West Parkway; this only allows cars to stop for immediate setting down of passengers during these times. There are No Standing Zones in Oxford Circus, and other restrictions in adjacent streets. Double parking is illegal, and the area is regularly patrolled by Council Parking Inspectors.
Vehicle speed is restricted to 25 kph when children are in the vicinity.
All parents and children are to cross at the Emu Crossing between the school and the church. Students in year 6/7 monitor the crossing after school. Parents must park their cars safely before dropping off children.
The Church car park is available to parents as well as other legal street parking.
Please keep to the rules, and keep our children safe!