Our Philosophy
Mission
"Educate and develop the whole child for life in the Church and the World of today and tomorrow"
Vision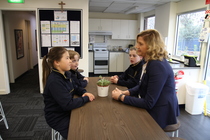 Our vision is to educate children in the Catholic tradition and to:
Develop children spiritually, emotionally, morally, socially, academically and physically, and help them to achieve their full potential.
Develop a love of learning and provide the best possible opportunities and environment to encourage successful learning.
Be a faith community modelled on the example of Jesus, where all are called to live in a loving relationship with God and each other.
Be a community where people within and beyond its boundaries are cared for, and respects the dignity and uniqueness of each individual.
Be a welcoming and inclusive community where staff, parents, families and parish work in partnership and collaboration.
Be a community that enjoys and celebrates life.
School logo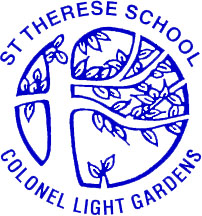 The school logo is based on the Gospels of Mark 4:30-32, Matthew 13:31-32 and Luke 13:18-19.
All three Gospels describe the Kingdom of God or the Kingdom of Heaven as being like a mustard seed.
"'What shall we say the Kingdom of God is like?' asked Jesus. 'What parable shall we use to explain it? It is like this. A man takes a mustard seed, the smallest of all seeds in the world, and plants it in the ground. After a while it grows up and becomes the biggest of all plants. It puts out such large branches that the birds come and make their nests in its shade.'"
The school logo is symbolic of these readings; St Therese Parish School community aims to be like the mustard tree (the Kingdom of God) providing protection, shelter, support and assistance to the children and their families as the children learn and grow. The school aims to be like the mustard tree (the Kingdom of God) and the children and families are like the birds seeking support and shelter in its branches.
Other aspects of the design of the logo are that the circular shape is representative of the school community and our mission of providing a complete, balanced and all embracing education for all the children that addresses their spiritual, social, academic, emotional, moral and physical development. The tree is also symbolic of Jesus as the vine and the tree of life that guides and supports us all in the way we should live our lives.