Spiritual Growth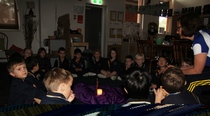 As a Catholic school steeped in the Dominican tradition, the values of St Therese of Liseux and the message of Jesus, we deeply value the spiritual development of our students.
Our Catholic Faith is taught and celebrated in many ways including:
Community/Whole School Prayer on Monday mornings; individual classes present the prayer service each week
A Religious Education program, which is presented at a level appropriate to each child's stage of development and experience.
Parish Family Masses
Class Liturgies
We work in partnership with parents and the parish community in supporting children in their preparation and celebration of the Sacraments of Reconciliation, Eucharist and Confirmation.
Students become familiar and support a number of social justice groups including Caritas and Vinnies, through donation and action.
Children are supported and encouraged to develop an understanding of the presence of God in their lives and to recognize the meaning of God's message in our world today. We encourage our students to participate in the Church and make a positive difference to their world.

Dates for School Prayer, Class Liturgies, Family Masses and Sacramental Preparation can be found on our School Calendar.
Spiritual Growth