Enrolment Procedures
Come and see us in action!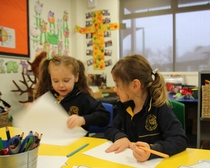 You are warmly invited to book a personal tour with our Principal, Amanda Humeniuk, and experience how St Therese feels for you and your child.
Come along and ask Amanda all the questions you need to learn more about how St Therese may be the ideal school for your child.
Please contact the school by phone or email info@sts.catholic.edu.au to obtain an Enrolment Information Package, including an Enrolment Form.
How do I enrol my child?
Parents submit an Application for Enrolment form and pay the application fee - $50
The school will confirm receiving the application by letter
Parents will receive a letter asking them and their child to attend an interview with the Principal about two years before the Reception starting date
An "Offer of Acceptance" letter is sent to parents
Parents fill in and return the" Formal Acceptance" for their child. A non-refundable acceptance fee for each child of $200 is payable. The form must be returned by the due date to ensure a position is held.
The above process also applies to parents wishing to enrol their child in Years 1 – 6.
St Therese has two key intake points – Reception Term 1 and Reception Term 3. Students may enter all other Year Levels at any time subject to available vacancies.
Enrolment offers are made two years prior to the intended commencement date and continue until Year levels are full.

When will my child start school / Mid-Year intakes
If your child turns 5 before 30 April, they start school at the start of that year.
If your child turns 5 from 1 May onwards, they will generally start school at the start of the following year.
St Therese has a mid year (Semester 2) Reception class intake. If you would like to discuss this as an option for your child's enrolment, please contact our School Secretary, Jen Hamilton.
When should I apply?
Applications for Reception entry should ideally be made at least 2 years before your child is due to start school as demand for places is high.
Places for children in other year levels do arise from time to time. Please contact the School Secretary to see if there are vacancies. If there are no current vacancies in your child's year level, we will contact you as soon as we have a vacancy.
The enrolment process
At St Therese, we welcome all enquiries from families who are looking for a new school.
Once we receive your enquiry we will contact you and offer a tour of our school with our Principal Amanda Humeniuk at a mutually convenient time.
As soon as you decide to enrol your child, lodge your application form with us together with a $50.00 application fee.
We will invite you and your child to come for an interview with our Principal.
When an offer of a place is made, please complete and return the Enrolment Form together with the enrolment fee - this amount will become your child's resource fee for their first year with us.
Before your child starts their journey at St Therese, we will provide you with more information about parent meetings, uniform and orientation days.
If you have any further questions on enrolment, please do not hesitate to contact the School Office.
There will be the opportunity to order school uniforms and look at our second hand uniform items available for sale.
Enrolment criteria
The following criteria are a guide for accepting a child's enrolment. Priority is given to:
(a) Catholic children who live within the Colonel

Light

Gardens Catholic Community
(b) Siblings of existing St Therese School students
Catholic children who don't live within the parish boundaries
Children of St Therese School old scholars
Children from other Christian denominations, other religious faiths or worldviews and families who identify with the philosophy of St Therese School.
For more information, please see our Enrolment Policy.